The Wild at Heart
The Wild at Heart is a bar mentioned and briefly seen in the first Shadow Man, game while it can be explored in Shadow Man: 2econd Coming.
In Shadow Man, this popular bar is located within the French Quarter of New Orleans. It was originally owned by a bokor sought out by Michael LeRoi, who needed protection against the attacks of a local gang who threatened his life if the $20,000 in cash he had claimed was not returned to them. Though Michael's little brother Luke and his parents were killed in the car they were traveling in, Michael had managed to survive, but was now suffering from amnesia.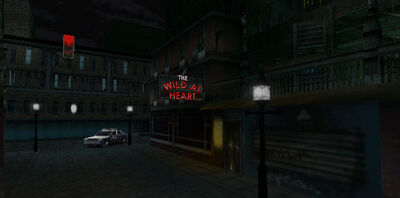 The bokor later sought him out to collect debt for the protection by making him his zombie slave and hitman, working under the pseudonym "Zero". The bokor would later be taken down by hired thugs of Agnetta, a.k.a. Mama Nettie as revenge for ordering hits against several of her gang members. The Wild at Heart would later fall into Michael's ownership and would also become his and Mama Nettie's base of operations. Michael's room is located above the bar.

In Shadow Man: 2econd Coming, this place is the first in which Michael as Shadow Man comes to in Liveside after his three year period of being stranded in Deadside, following his fight with Legion. Upon entering, he is confronted by followers of Papa Morte, who had trashed the bar, kidnapped Jaunty, and had ritually killed an unknown man on the second floor of the place. Michael would later come back here to contact Thomas Deacon regarding an unknown mark on Jaunty's forehead that began to affect him. Though no further actions take place at the Wild at Heart after this, this bar can be visited again at any time.